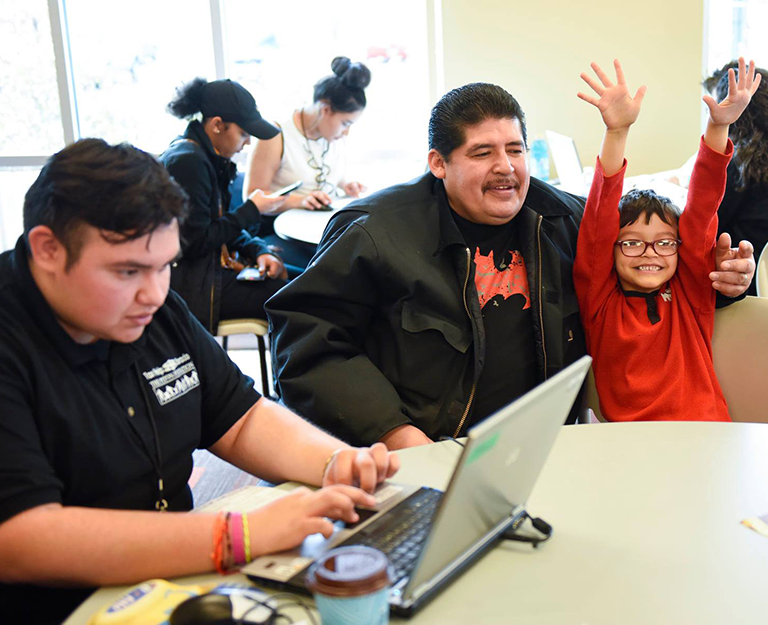 TAX HELP & GET AHEAD COLORADO
Tax Credits for Families
Raising awareness about vital tax credits and providing families the resources needed to access them.
Problem

: Low-Income Families Unaware of & Unable to Access Tax Credits
Solution

: Tax Credit Awareness Campaign & Expansion of Reliable Tax Filing Services
Defining the Problem
In 1993, President Bill Clinton tripled the U.S. Earned Income Tax Credit (EITC). At the time, the move gained bipartisan support, and it was quickly heralded for its anti-poverty effectiveness, lifting more than 4 million people out of poverty each year by 2005. During that same time, the federal EITC delivered more than $38 billion annually for nearly 22 million households. It was so effective as a lever to decrease poverty that individual states began creating their own EITCs — Colorado included.
Despite the program's success, however, a 2005 study published by the National Tax Journal found that participation in the EITC as well as the Childcare Tax Credit (CTC) remained "rather low" and "inferior to participation within more traditional welfare programs." An IRS study found that workers mostly likely to miss out on the EITC included those who are:
living in rural areas,
self-employed,
receiving certain disability pensions or have children with disabilities,
not proficient in English,
grandparents raising grandchildren, or
recently divorced or unemployed
Additionally, 74.5% of Colorado families claim the EITC, compared to 80% nationally, so our home state found itself lagging even further behind. What's more, according to a 2006 study published by the Western Michigan University's Journal of Sociology & Social Welfare, many tax preparation services targeting these types of underserved communities were participating in predatory practices that led to many low-income families missing out on opportunities to claim the EITC. This creates a troubling set of options: Low-income families must consider paying tax preparers an average cost of $273 a year or risk forgoing tax credits that contribute to a significant share of household income.
Searching for a Solution
How might we raise awareness about the availability of tax credits among families while also providing trusted, non-predatory tax filing services that allow more to claim it?
Since its founding in 1969, the Volunteer Income Tax Assistance (VITA) program has proven to be effective in raising awareness about the EITC and CTC and increasing the amount of low-income families who claim those tax credits. Individuals are eligible for VITA services if they earn $54,000 or less in income, have a disability or have limited English proficiency. By 2018, VITA had grown to a national network of 4,000 sites, each with highly trained volunteers. In 2018 alone, according to Prosperity Now, these volunteers helped low-income tax filers access $1.9 billion in tax refunds, including $646 million from the EITC and $97 million from the CTC.
Seeing this success, Gary Community Ventures initially invested in different VITA programs in Colorado. However, challenges were encountered along the way. Consistent challenges for VITA programs included funding for space and technology as well as the recruitment and retention of a sustainable, reliable stream of volunteers.
Growing, Building & Changing What's Possible
The first investment the Gary Community Ventures team made towards addressing EITC and CTC under utilization was the implementation of a robust outreach campaign. The Tax Credits for Working Families Public Information campaign aimed to become one of the largest EITC outreach efforts in the country, and the Gary Community Ventures team enlisted more than 440 partners in that mission. Over the course of 30 years, the campaign was sustained, simplified and rebranded as Get Ahead Colorado, with outreach being tailored to changing consumer preferences.
The Gary Community Ventures team also took advantage of a shared learning opportunity with a neighboring state program called Tax Help New Mexico. At the time, the program was utilizing students from New Mexico's community college system to help fuel its VITA programs' volunteer pool while also utilizing space and technology from the community colleges themselves. This seemed to be a replicable model for Colorado, and the Gary Community Ventures team went about activating a version of the program that was dubbed Tax Help Colorado.
Seeking to expand and improve the program further, we worked with Catapult Designs to execute a human-centered design review of our programs, which led to the following modifications:
A community volunteer arm was added to provide yet another stream of qualified, reliable, long-term tax preparers
We began offering the option for program participants to bypass the appointment and simply drop off their materials for a tax preparer, schedule virtual appointments or take part in a facilitated self-assistance filing program — all of which were changes aiming to better accommodate the busy schedules of working families
In an effort to reach families in locations where they were already going, we added locations at early childhood education centers, housing providers like the Denver Housing Authority and other sites beyond just schools and community colleges
The Team
Get Ahead Colorado and Tax Help Colorado was incubated at Gary Community Ventures, and both programs have since found new homes and partners to help expand their reach, which is the goal for all Gary ventures. In 2021, Mile High United Way took over management of Tax Help Colorado and the Colorado Department of Public Health and Environment (CDPHE) took on key aspects of the Get Ahead Colorado program to provide continued outreach, awareness, data and evaluation activities related to tax credits for Colorado families.
Delivering Breakthrough Solutions
"

Over the course of 30 years, Get Ahead Colorado has become one of the largest EITC awareness campaigns in the nation. Meanwhile, Tax Help Colorado serves close to 8,000 Coloradans annually and has helped families claim over $174 million in refunds

Get Ahead & Tax Help ColoradoAnnual Reports
Over the course of 30 years, Get Ahead Colorado has become one of the largest EITC awareness campaigns in the nation, working with more than 440 partners to disseminate approximately 750,000 pieces of marketing collateral while reaching an estimated 300,000 people with our digital assets each year. Meanwhile, Tax Help Colorado serves close to 8,000 Coloradans annually and has helped families claim over $174 million in refunds, while saving approximately $19 million in tax preparation fees from 2007-2021.
Armed with the stories collected by both campaigns, both the Get Ahead Colorado and Tax Help Colorado teams were key players in pushing the Colorado legislature to pass SB 13-001 in 2013, establishing a state-based EITC, and making it permanent once Colorado reached a revenue surplus. In fiscal year 2014-2015, this legislative trigger was activated and the credit became available for the 2015 tax year. It has remained available ever since.
Additionally, Get Ahead Colorado and Tax Help Colorado have had the opportunity to pay forward the shared learning opportunities that led to the creation of both programs in the first place. The programs hosted the first-ever Colorado VITA Conference in 2017, and were then invited to host the national VITACon conference in 2019, with our teams helping that conference double in size from the previous year.
Share Your Ideas

If there's a need that's not being met or a challenge that requires a new way of thinking, we'll work right alongside the kids and families in our community, and gather the right mix of partners and resources to BUILD a new solution together, like Tax Help and Get Ahead Colorado. As we venture to solve some of the toughest problems facing Colorado kids and families, we'd love for you to join us.