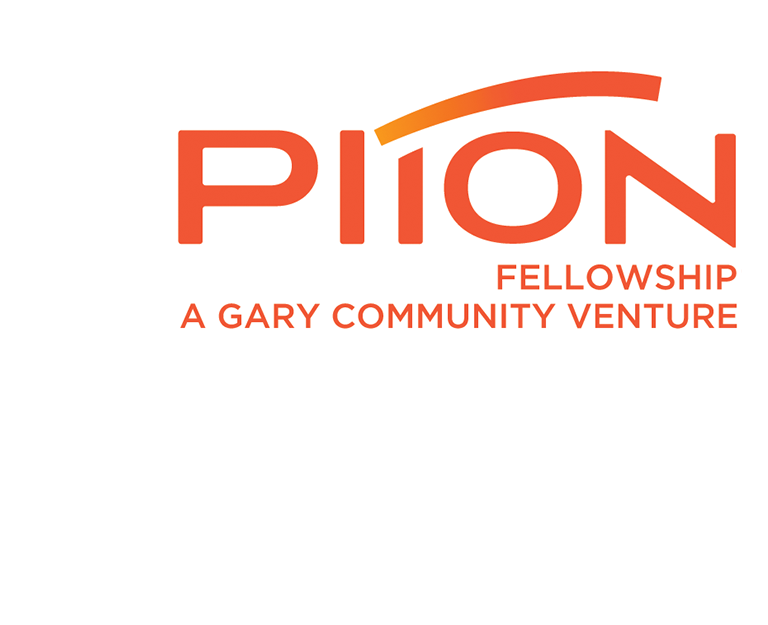 THE PITON FELLOWSHIP
the next ascent of leadership
Gary Community Ventures, formerly known as Gary Community Investments and The Piton Foundation, is helping Colorado's next generation of community changemakers ascend in leadership through The Piton Fellowship.
A piton is designed to help climbers ascend historically impassable routes treacherous to attempt alone. The Piton Fellowship is designed to help business, government and nonprofit leaders leverage dedicated financial and strategic support from Gary Community Ventures to expand their knowledge, network and potential to drive positive change for themselves and their communities. Through Oct. 1, 2021, we are accepting applications and nominations for the first class of the fellowship. The program is open to all professionals with 2-5 years of work experience, with an emphasis being placed on developing young leaders of color.
Although our initiatives now live under the Gary Community Ventures name, we intentionally chose to honor our history as the Piton Foundation in selecting Piton Fellowship as the title for this program. We did so because we believe this name tells a perfect story about the idea of ascendency in leadership that Piton has long represented.
The application and nomination period for the Early Career Professionals cohort has ended. The application and nomination periods for the Mid-Career Professionals and Youth cohorts of the Piton Fellowship will become available in 2022.
Calling All Early Career Professionals
Gary is currently inviting individuals who are 2-5 years into their careers and looking to grow as civic leaders to join the Early Career Professional Cohort.
Designed for working professionals, this 5-month experience allows fellows to continue working while building their leadership skills, networks and potential to create community impact. Fellows will participate in a kickoff, various cohort meetings as well as two overnight venture experiences out of town to learn from and connect with other changemakers. Upon completion of the program, Gary provides all fellows a $1,000 stipend to use towards professional development and career-building opportunities.
Piton Fellows in the Early Career Professional Cohort Will…
ACCELERATE their individual leadership journey as part of a paid fellowship opportunity that emphasizes the value and need for diverse leaders.
LEARN from inspirational changemakers in business, nonprofit and government here in Denver and across the country.
CONNECT with the network of Piton Fellows and gain access to alumni events to foster ongoing civic and professional leadership.
DEVELOP talents through personalized skill building and real-time opportunities to advance current work and future aspirations.
We're Looking for Leaders Who…
Are committed to championing causes that serve Colorado kids and families.
Are Innovators, creative thinkers and change agents who are constantly thinking about how to build breakthrough solutions that will support their communities.
Are empathetic leaders with a strong willingness to learn and collaborate with those who have diverse perspectives.
Live in Metro Denver, as this is a place-based fellowship.
About Gary Community Ventures
Gary Community Ventures partners with our community to reshape the arc of opportunity for Colorado kids and families.
We leverage business, policy and philanthropy to break down the biggest barriers to opportunity and co-create breakthrough solutions for those who need it most. We listen with humility to our community and partners, learning together to drive action that guarantees School Readiness, Youth Success, and Family Economic Mobility. Whether we're growing solutions that already exist, building solutions that don't yet exist or changing the policy landscape, we dare to be bold, working urgently with our community and partners to deliver a future where all Colorado kids can grow up healthy and reach their full potential.
Meet Design Partner Iesha Mitchell
"I think it's really hard to design something for someone without their voice in it. Historically we've done that," Mitchell said. "What's the point of a fellowship? What's the opportunity it presents fellows? You don't know until you talk to those who will occupy that space. This isn't a new concept, but I have seen (the Gary team) focus on it — building for the community with the community."
Iesha Mitchell, Director of Community Partnerships at Invest in Kids, was among those whose feedback was vital to the development of The Piton Fellowship. Having participated in the Colorado Hispanic Chamber of Commerce Fellowship and the Colorado Education Policy Cohort from the University of Colorado, Mitchell shared how these valuable programs helped her build new networks and leadership skills as a young leader of color.
Ready to Begin Your Next Ascent in Leadership?
The application and nomination period for the Early Career Professionals cohort has ended. The applications and nominations for periods for the Mid-Career Professionals and Youth cohorts of the Piton Fellowship will become available in 2022.
The Early Career Professional Cohort of the Piton Fellowship begins on Nov. 5, 2021, and will run through April 8, 2022. Have questions? Feel free to contact us at piton@garycommunity.org.
Early Career Professionals Cohort Application Timeline
Applications & nominations due: Oct. 1, 2021
Top candidates invited to a phone interview: Sept. 1, 2021 to Oct. 8th, 2021
Finalists invited to attend 60 minute group interview: Oct. 13-14, 2021
Fellowship offers made: Oct. 15, 2021
Fellowship kick-off: Weekend Retreat Nov. 5-7, candidates are asked to hold these days
Additional Early Career Professionals Cohort program dates to note: 2021 — Nov. 5-7, Nov. 20, Dec. 11; 2022 — Jan. 7-9, Jan. 29, Feb. 19, March 11-13, April 8
Discover New Possibilities

Together, we will create the change our community wants to see. Whether you want to discover more about our ventures, or connect with a member of our team, we want to hear from you.