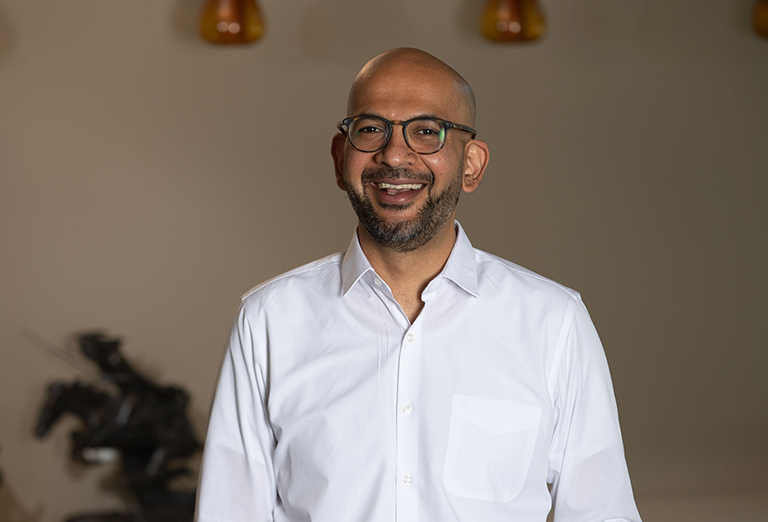 March 17, 2023
GARY COMMUNITY VENTURES BOARD OF DIRECTORS NAMES SANTHOSH RAMDOSS PRESIDENT & CEO
Since stepping in as interim president and CEO in November 2022, Santhosh has led the organization with vision, integrity and a commitment to community voice that will continue to drive impact.
By Chris Watney, Board Chair
It is with great pleasure that I share on behalf of the Gary Community Ventures board of directors that we have named Santhosh Ramdoss as president and CEO.

Since stepping in as interim president and CEO in November 2022, Santhosh has led this organization with vision, integrity and a commitment to community voice as we work together to reshape the arc of opportunity for Colorado kids and families. We are so fortunate to have Santhosh here to build upon this important time in Gary's history and to blaze a new trail of impact yet to be discovered in partnership with our community.

Since joining Gary in July of 2020, Santhosh has left an indelible mark of innovation and leadership both at Gary and within the impact and philanthropic sectors. Santhosh served as Gary's vice president of impact investing and then as chief investment officer (CIO), overseeing the organization's $400 million in endowment assets and helping Gary deploy a larger pool of its financial assets directly in service of our mission. Given his expertise, Santhosh will continue to serve as the organization's CIO, building Gary's legacy as a pioneering place-based impact investor, partnering with leading fund managers and companies, as well as incubating innovative capital vehicles like the Dearfield Fund for Black Wealth.

True to Gary's core values and mission, Santhosh has two decades of experience working at the intersection of business, policy, philanthropy, and impact investing. He was part of the investment teams at the Skoll Foundation and the Michael & Susan Dell Foundation, both with multi-billion dollar endowments. In addition to his work in philanthropy and investing, he has held other diverse roles, such as management consultant, community organizer, start-up social entrepreneur, and community banker. This diversity of experience and skills is a tremendous asset, given Gary's multi-faceted approach to leveraging grants, mission investments, policy change and new ventures to deliver equitable outcomes for Coloradans.

Santhosh also brings unique lived experiences that are grounded in empathy and humility. He grew up in a small village in Southern India where he was raised by a single mother. He learned to speak English mostly by watching American television as a teenager, and was 25 before he boarded an airplane for the first time. He takes pride in his identity as an immigrant and leverages his diverse array of experiences to inform his leadership approach and his relentless commitment towards equity.

It has been my privilege to work with Santhosh over the last several years at Gary, most recently in his role as interim president and CEO. I have heard from many of you that your experiences with Santhosh have been similarly transformative. We hope if you have not had the chance to work with him directly, you will soon have the opportunity to do so in his new role.

I want to thank the staff at Gary Community Ventures for their incredible work over the last few years as they have led some incredible efforts that will significantly change the lives of Colorado kids and families. I also want to thank you for your partnership and support. The entire board looks forward to supporting Santhosh, our staff, and you as partners in continuing to deliver breakthrough solutions. Please join me in celebrating Santhosh as the next leader of Gary Community Ventures.
Related Content