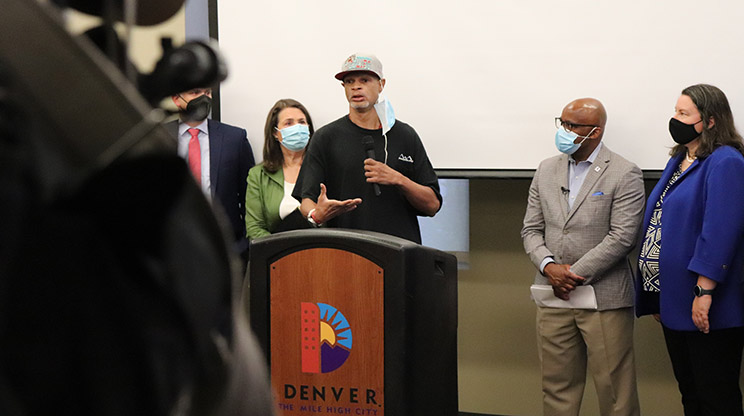 June 29, 2022
DENVER'S SUPPORTIVE HOUSING PROGRAM, HAILED FOR COMBATTING HOMELESSNESS, EXTENDED VIA PUBLIC-PRIVATE PARTNERSHIP
Gary Community Ventures is proud to be an initial & continuing investor in a promising public-private solution to reduce homelessness, increase housing stability & reduce taxpayer expenses
Will C. Holden: Director, Communications & Storytelling
DENVER — Gary Community Ventures is proud to announce a $1 million investment in the Denver Housing to Health (H2H) Social Impact Bond (SIB), which provides homes and wraparound supportive services to individuals experiencing chronic homelessness.
The initial program has left a lasting impact on the City and County of Denver, and in a joint announcement from Denver Mayor Michael B. Hancock and the U.S. Department of the Treasury on June 29, it was revealed that H2H SIB programming will be extended thanks to $11.75 million from private investors and up to $6.3 million in U.S. Treasury funding under the Social Impact Partnership to Pay for Results Act (SIPPRA).
The goal? To reduce homelessness and increase housing stability while reducing taxpayer expenses with an innovative and proven public-private partnership.
"This is a unique opportunity to reduce public expenditures through a sustainable financing structure that delivers vital housing and supportive services," said Catherine Toner, Director of Impact Investing at Gary Community Ventures. "It has provided proof points for how we can effectively combat homelessness, and we believe it will continue to do so."
The first SIB in Denver produced stable housing for more than 300 participants, and produced the following results for our neighbors experiencing homelessness:
77% remained in stable housing after three years
34% reduction in police contacts, 40% reduction in arrests and 30% reduction in jail stays
40% reduction in emergency department visits and 155% increase in office-based care visits
In addition to the impact of the SIB, investors also realized a concessionary return alongside their return on their initial investment capital
Like many cities across the country, Denver continues to face barriers to addressing homelessness due to a lack of resources to invest in preventive programs for those experiencing the problem – individuals who often struggle with mental health and substance abuse challenges. As a result, too many of those struggling to attain stable housing frequently interact with police, jail, substance abuse and addiction treatment centers as well as emergency health care systems.
According to the Metro Denver Homeless Initiative, the number of our Denver neighbors experiencing first-time homelessness nearly doubled in 2021. Meanwhile, the region's Homeless Management Information System indicated 32,233 individuals accessed services related to homelessness between July 1, 2020, and June 30, 2021.
Walter Boyd has experienced homelessness himself, and he shared his story at the press briefing on Jun. 29. He echoed the sentiments shared by U.S. House Rep. Dianna DeGette — that those experiencing homelessness are "desperately seeking housing."
"Please trust the congress lady," Boyd said of DeGette, who's been advocating for solutions to homelessness since before her political career began in 1993. "We don't want to be on the street. I wanted a home more than anyone. I'm here today so that you can see the truth and the outcome of stable housing. I'm here to show you what compassion can do."
Boyd said he was initially provided housing during the COVID-19 pandemic through an initiative from the City and County of Denver, which provided emergency housing and meal services at the Denver Coliseum to more than 3,000 people.
While Boyd was appreciative of the services, he said sleeping on a cot aggravated his scoliosis, which is a curvature of the spine that can become a debilitating medical condition.
"I'm 6-foot-2, and my spine is curved 20 degrees," Boyd said. "It got so bad that people next to me had to help me up off my cot to go to the bathroom."
Boyd said he spent every day during his time in the Coliseum filling out housing applications trying to find a permanent housing solution. He was eventually offered that opportunity through the H2H SIB.
Boyd represents one of the 125 individuals who will be served in this new H2H SIB initiative over the next seven years via 98 new housing units provided by Legacy Lofts and 27 additional units throughout Denver.
In addition to stable housing, participants in this new program will gain access to support services from providers at Colorado Coalition for the Homeless, WellPower, the Corporation for Supportive Housing, Denver Health, the Urban Institute and Social Impact Solutions. These services are designed to match each individual's needs, help address barriers to housing stability, support tenants in addressing behavioral health needs, reduce interactions with the justice system and improve health outcomes.
Absent such services, the city estimates that every 250 people experiencing chronic homelessness in Denver account for 2,200 visits to detox centers, 1,500 arrests and 500 emergency room visits.
"These interactions cost the City and County of Denver tens of thousands of dollars per individual," Toner said. "By showing the effectiveness of these programs in reducing that cost, we can support Coloradans like Mr. Boyd while also increasing funding and access to resources long-term."
Boyd understands all too well the personal toll of the search for housing without such wraparound support services. In addition to struggling with health and substance abuse issues, Boyd said he was also incarcerated for eight years. Since he was able to attain stable housing with the H2H SIB, Boyd said he's had no contact with police or emergency healthcare services.
"I'm living in Lakewood now, and I don't even know what police look like out here," Boyd joked. "I have stability, and my neighbors don't even know I'm on housing support."
Boyd shared an emotional moment with Mayor Hancock as he finished his remarks, saying Hancock's own story resonated with him. Along with his twin sister, Hancock grew up in Denver as the youngest of 10 children and experienced homelessness and poverty himself as he was raised by a single mother in public housing.
Hancock seemed to share that emotion with Boyd.
"I look at Walter, and I think, 'This is my brother speaking. This is your brother speaking,'" said Hancock, a third-term mayor in Denver. "This is the most complex issue in public policy I've ever dealt with. It's easy to look in from the outside and say, 'You just need to build housing, and then you're done.'
"What we've always said and learned in Denver is that the city can't do this alone. We need all the partners who were involved in this effort. Today is a demonstrative example of all the partnerships that have to form, in a very selfless matter, to stand in the gap for those experiencing homelessness and truly solve this problem."
Gary Community Ventures is proud to join in this work in partnership with the following community leaders:
Service Providers
U.S. Department of the Treasury (Grantor)
Colorado Coalition for the Homeless (Service Provider)
WellPower (Service Provider)
Corporation for Supportive Housing (Project Manager, Fiscal Agent)
Denver Health (Referral Partner)
Urban Institute (Independent Evaluator)
Social Impact Solutions (Consultant)
Investors
Northern Trust (lead investor)
Colorado Access Foundation
The Denver Foundation
Gary Community Ventures
Grantors
Colorado Trust
Kaiser Permanente
Additional Supporters
Gibson, Dunn & Crutcher LLP (pro bono legal support)
Colorado Department of Health Care Policy & Financing
Colorado Department of Local Affairs
Denver Department of Public Health & Environment
Denver Department of Safety

Related Content
Share Your Ideas

I would like to see business people try to solve social problems with the same imagination and energy they use to finance a factory or make a deal. Don't call it philanthropy; call it corporate social investment. Make it integral to business.