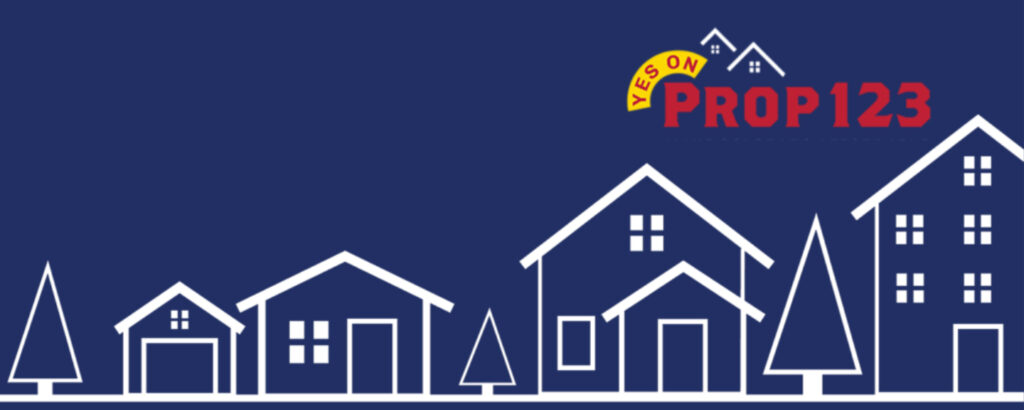 June 6, 2023
LEARN HOW TO OPT-IN TO PROP 123 FUNDING
Proposition 123 is quickly becoming a reality!  See below for updates on the Division of Housing's opt-in process, as well as information on upcoming training and informational sessions.
By Department of Communications, Gary Community Ventures
Local governments must opt-in in order to make any affordable housing projects in their communities eligible for Prop 123 funding, so please ask your local government to opt-in so that your community won't miss out on this historic funding source!
Please share these tools and resources with your networks. Many thanks to the teams at DOLA, OEDIT, and CHFA for getting to these milestones!
---
IN CASE YOU MISSED IT: Tools to unlock Prop 123 Funds for your community are now live The Division of Housing has released two key tools for any community that wishes to access affordable housing funds from Prop 123:
Prop 123 Commitment Filing Webpage: Authorized local officials can unlock funding for affordable housing in their community by filing a commitment to increase affordable housing through this webpage. Commitments are due by November 1st to make affordable housing projects in your community eligible for Prop 123 funding through 2026. We recommend committing as soon as possible as some funding opportunities will be available before November 1st.
The Baseline Assistance Tool is an optional resource that can be used to help determine the amount of affordable housing in your community and the size of the required affordable housing growth commitment. The tool was updated on June 1st to correct a minor issue that was overestimating some baselines. Even if you have already used the tool, we recommend double checking your results to see how they may have changed.
---
SAVE THE DATE: Local Government Trainings on Opting in to Prop 123 
In order to access these historic, transformative dollars for Proposition 123 – cities or counties must opt in by November 1st.  Please join and spread the word to your colleagues!
---
SAVE THE DATE: Land Banking and Concessionary Debt Program Stakeholder / Update Sessions (Presented by OEDIT & CHFA)
The new Land Banking and Concessionary Debt programs authorized by Proposition 123 are currently in development; CHFA continues to seek stakeholder feedback on key program areas in preparation for launch in July. Register for these sessions to learn more and provide input!
This meeting will be recorded by the presenter. If you do not want to participate in a recorded meeting, please do not connect to the call. A recording will be available for viewing in the future on OEDIT's and CHFA's websites.
Related Content