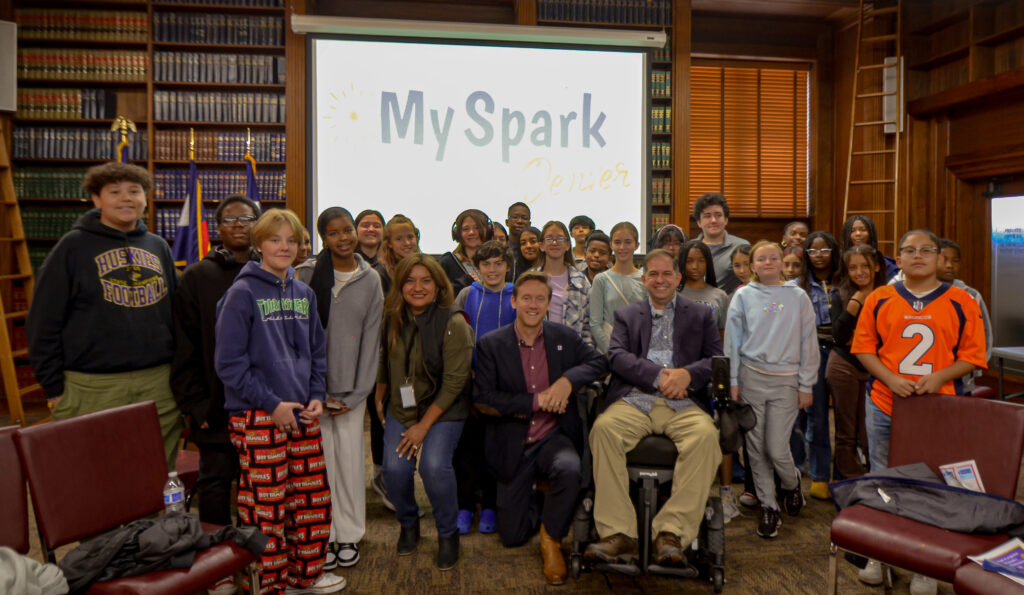 October 27, 2023
My Spark Denver Launches To Provide DPS Middle School Students With $1,000 To Participate In Afterschool Activities
Mayor Mike Johnston, Gary Community Ventures and Mile High United Way announce
$4 million public-private investment in afterschool programs.
FOR IMMEDIATE RELEASE
Contact
Mary Gerlach
mgerlach@garycommunity.org
DENVER – October 27, 2023: In a kids town hall meeting, Denver Mayor Mike Johnston announced My Spark Denver, a new pilot program that will provide 4,000 Denver Public Schools (DPS) middle school students with $1,000 to enroll in afterschool programs. As students enroll in participating programs, My Spark Denver will invest $4 million in afterschool activities.
"Many of us have a story about the activities we loved as kids. For me, my spark was soccer and theater. I didn't become a professional athlete or actor, but the lessons of teamwork and collaboration have stayed with me," said Mayor Mike Johnston. "While my administration takes on the urgent issues of ending homelessness and ensuring public safety, My Spark Denver addresses many of the underlying causes of these issues by investing in the wellbeing of young people now to help them weather life's storms and build positive connections to their community."
Mayor Johnston and City Council Members Chris Hinds and Diana Romero Campbell heard from middle school students about their interests and favorite afterschool activities. The students, some of whom are enrolled in My Spark Denver, also asked city leaders about how they're including youth perspectives in policy making, reducing stigma and finding joy to support youth mental health, and creating spaces where young people feel safe. Mayor Johnston also addressed students' concerns on important issues in the city like homelessness and safety.
Participation in afterschool programs improves youth self-confidence, self-awareness and positive social behaviors. However, nearly 60% of parents say the high cost of afterschool programs keeps them from enrolling their kids.
"Parents often echo what the research tells us – that their child discovers something new about themselves through dance, that a new friendship is formed thanks to chess or that a kid builds confidence through sports. These experiences aren't nice to have but critical to youth wellbeing and mental health," said Angie McPhaul, Director of Youth Success at Gary Community Ventures. "This is a community-led effort and one step closer to making it possible for every child to pursue their passions and find their spark."
Parents can apply for My Spark Denver on mysparkdenver.org. Once approved, parents will receive a debit card with $1,000 in funding that can only be used to enroll their child in a participating My Spark Denver afterschool program. More than 100 providers are participating and offering activities that range from art, sports, chess, tutoring, dance, martial arts and music. These offerings continue to grow as new providers join the program. The 2023-2024 school year is the first year during which My Spark Denver has been piloted. Researchers will study the outcomes of the program and advisory groups composed of community leaders, kids, parents and afterschool providers will inform My Spark Denver's development.
"We know how important out-of-school opportunities are for both children and their families. Almost all of us can think of an after-school activity that shaped who we are as adults, and Mile High United Way wants to make sure today's children have that same experience. Through this partnership to create My Spark Denver, thousands of parents will know their student is safe and learning, even after school gets out for the day. It's an honor to work with Gary Community Ventures and the City and County of Denver to make My Spark Denver possible for Denver families," said Christine Benero, Mile High United Way President and CEO.
My Spark Denver is a partnership between the City and County of Denver Office of Children's Affairs, Gary Community Ventures and Mile High United Way.
About Denver Office of Children's Affairs
The Office of Children's Affairs connects communities, government agencies and other stakeholders to support the safety, well-being and development of young people and their families; advocates on behalf of children, their families, and service providers to remove barriers and increase their opportunities; supports programs that are innovative, equitable and effective through funding and technical assistance; and leads across the child and youth-serving field by engaging youth voice, assessing community needs and innovating the ways in which we work.
About Gary Community Ventures
Gary Community Ventures is a philanthropic organization founded by Sam and Nancy Gary to increase opportunity for Colorado children and families. In partnership with our community, we combine the resources of business, policy and philanthropy to make impact investments in mission-driven organizations, fund policy change, provide grants, and pilot new solutions––all designed to break down inequities and deliver breakthrough solutions that guarantee School Readiness, Youth Success, and Family Economic Mobility.
About Mile High United Way
Mile High United Way, the first United Way in the world, was founded in Denver, CO in 1887. Working side by side with the community, Mile High United Way takes on critical human services issues facing our seven-county footprint including the Metro Denver, Boulder and Broomfield communities. Our united approach changes the odds for all children, families and individuals in our community, so that we all can succeed.
###
Related Content